Becky's Diner: Portland, ME
So Dharia and I went to Portland, ME for the weekend to relax and to celebrate her birthday. Of course, we can't visit a town for any length of time without checking out the local diners. On the advice of a friend (and on the advice of Rachael Ray's travel show), we decided to try Becky's Diner, a Portland legend.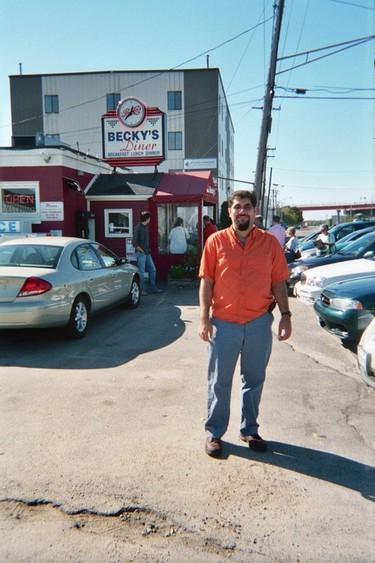 You can tell that Becky's is an institution simply by looking at the line out the door on Sunday mornings. (The line is sort of obstructed by my figure in the above picture. Sorry.) While we were waiting to be seated, I overheard a local describe this as "the only place to get breakfast around here." Keep in mind that was said with a sigh, as in "I wish there were other places people could get breakfast so I wouldn't have to wait 30 minutes to be seated at this diner."
Becky's is a freestanding building, but is not in a traditional diner structure, meaning you won't find it listed on a place like
Diner City
. Still, the interior is authentic, and so are their hours: they operate from 4am to 9pm most days.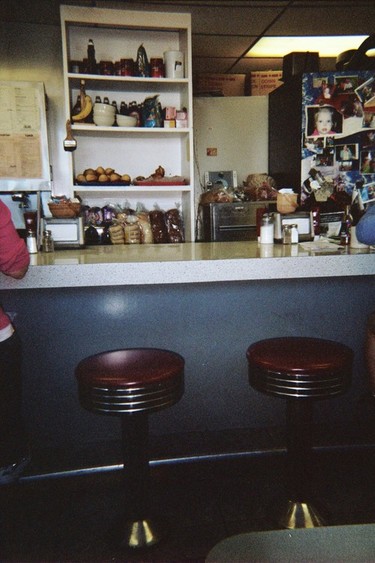 The menu was pretty impressive, striking a nice balance between the minimalist "what's on the board" stuff you tend to see in Massachusetts and the over-full "we cook everything" monstrosities often found at New Jersey diners. I ordered the special: biscuits and sausage gravy with two eggs over easy. I also got a side order of one blueberry pancake (can't be in Maine and not have blueberries). Dharia got the broccoli and cheese omelette with a side of cheese home fries.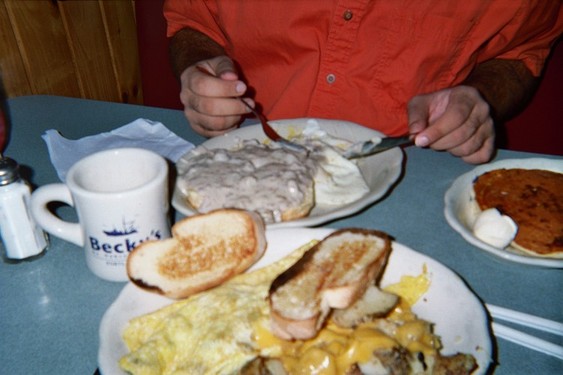 Pardon the blurry picture. We were using a throwaway tourist camera. Anyway, I liked my breakfast. Although the sausage was nothing to write home about (typical sweet breakfast sausage), the biscuits were delicious and the eggs nicely done with just the right amount of yolk bleed for me. My pancake was incredibly fluffy, to the point where I thought they had accidentally given me two pancakes! Alas, no, it was merely one incredibly fluffy 'cake. As a side note, if the quality of their maple syrup is any indicator of the best that Maine has to offer, I must officially side with
Jed Bartlet
in my proclamation of New Hampshire as the clear winner in the Great Maple Syrup Wars. Dharia liked her omelette, but her cheese home fries were disappointingly just topped with barely melted American. The grilled Italian toast was great, yet not as satisfying as what we get at the
Boulevard Diner
. (But then, we're spoiled.)
While the wait was long and the food was a mixed bag, I did very much enjoy the friendly atmosphere. Even the cooks seemed to be having fun with each other in the back, and our server was incredibly personable. Plus, they sell mugs with the Becky's logo for $4.28 each (tax included). Now that's a real bargain, as most diners sell their mugs in the $8 to $15 range.
All in all, I'd recommend Becky's to anyone visiting Portland who wants a taste of how the locals eat. You can check out their website,
www.beckysdiner.com
, for a partial menu and some biographical info.
Becky's Diner
(207) 773-7070
390 Commercial St.
Portland, ME 04101
(
Google Local/Map
)